What does the Education Program do?
The Education Program is crucial as it can help break cycles of poverty and dependence by supporting young people in their studies. Through Mifan Mama many orphaned children have the opportunity to receive an education. Currently Mifan Mama helps support students in Anhui and He'nan Provinces to attend school, from kindergarten to college. From kindergarten in Anhui and Shanghai to College in He'nan, we are honoured to be able to help support these young people to make the most of their talents.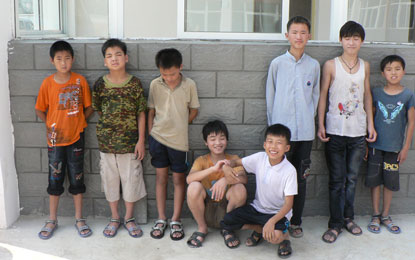 What can the Education Program help achieve?
We are very proud of one young lady. Lisa, as she is known, was a teenager when Mifan Mama met her at an orphanage in Anhui. She was bright but the orphanage couldn't afford for her to go to high school. Mifan Mama agreed to fund her high school education and after getting good grades she gained a college place to study business in the hospitality industry. In 2013 she completed an internship at the DoubleTree by Hilton in Shanghai which gave her the confidence to complete her course. She graduated in 2014 and is working in Hefei with her new husband. She is a lovely young woman and we wish them both all the best for the future.
How can you help?
Currently Mifan Mama is providing support for education for 35 children in Henan and Anhui Provinces.
3900 RMB per child per year for orphans in Henan to get to and from school and have a hot meal whilst they are there.
700 RMB per child for books for children in Government schools in Anhui
8,000 RMB pays for a teenager to attend High School
20,000 RMB pays for a young person to attend college for a year
Our total budget for education in 2016/17 is 220,000 RMB.